Can start-up watch companies threat the major brands? Not too long ago that answer would be a definitive NO!, but things seemed to have changed. The watch industry is known to have high entry barriers, and the decision of Swatch-group to stop supplying ETA-movements didn't make them any lower, yet this hardly seems to affect start-up watch brands. Many of them pursuit a global sourcing strategy that is focused on quality, rather than the origin of the parts. The results are watches that actually ooze a quality that most people will associate with a much higher price-point. So it is no wonder that start-up brands like Straton, and the more established Stuckx, are celebrating huge success. But what is perhaps the most threatening aspect of these startup brands, is the creativity in design that they show. Like Calvin Jr's Velocita.
The Velocita is the first watch by Calvin Jr., and it is a most striking watch. Its 45mm case has indeed something to do with this, but most of all, it is the way that the watch hangs tilted between the lugs. The details of these lugs make them look like they are constructed like a bridge. Combined with an well designed, and easy to read dial, it really pushes the watch higher into the watch hierarchy, yet without the price.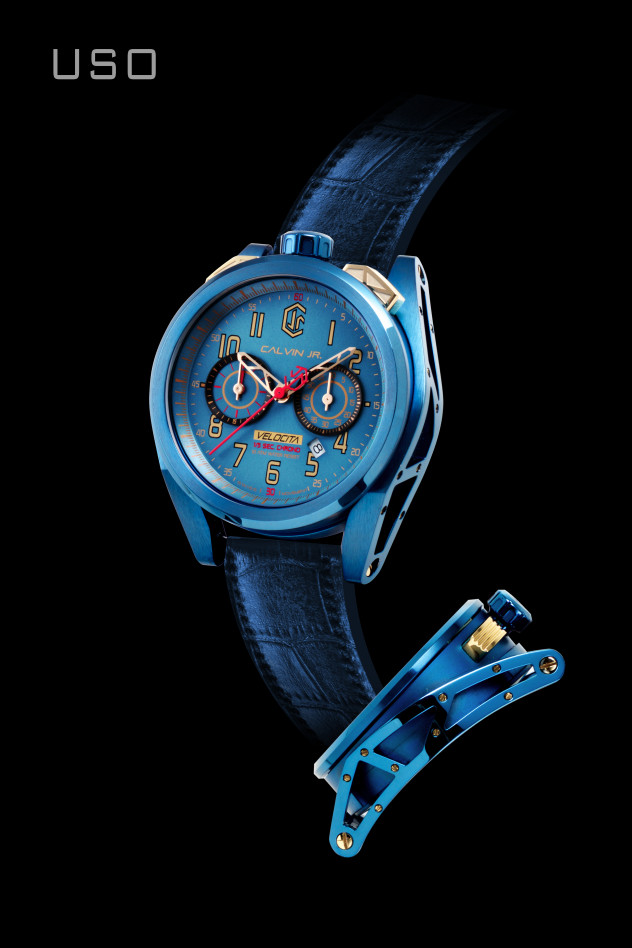 The Velocita even comes with different case finishes that are themed, and, quite clever, with two different movements; a reliable Swiss chronograph movement by Ronda, and a mechanical chronograph by ETA/Valjoux.  The reach of Kickstarter as a watchstore is of course limited, but it could be a great breeding platform for a new generation of watch brands. You would say that they can hone their skills there, but we think that the only thing that separates many of these brands from the big leagues is the shallow depth of their pockets, because they have already proven that they are very capable in combining innovative designs with eye for detail, eclectic sourcing focused on quality, and running solid, well themed marketing campaigns.
The Kickstarter campaign Velocita for the Velocita still runs until the 20th, so make sure you check it out!