Ball always had a practical approach towards watches. That made them the brand of the American railways, where their accuracy and great legibility where highly appreciated. The brand is now celebrating its 125th anniversary, with a watch that brings everything great about the brand together in a single timepiece; the limited-production Engineer II Genesis
The watch is quite a statement piece; the 12, 6 and 9 on the dial are build up out of 1mm self-powered micro gas tubes. Ball also applied them as markers on the other numerals, as well as placed them on the hands. They emit enough light to be able to check the time in the most difficult conditions, and will do so for 25 years, yes indeed, until Ball's 150th anniversary!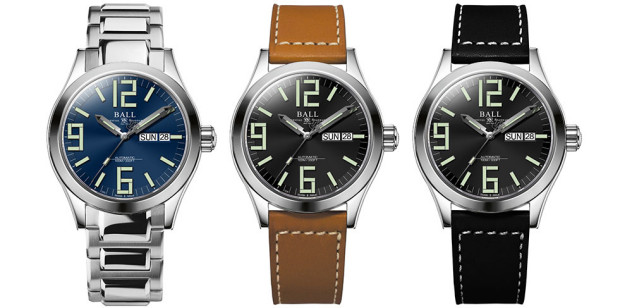 While the bold dial design creates enough of an « I want one! »-feeling, that is not enough for Ball. It almost seems like they want to make you an offer you cannot refuse. They bring this limited production was in two sizes; 40mm and 43mm, with your choice of black of blue dial. They also fit it with a metal bracelet, and those familiar with Ball's watches know that those bracelets are well designed, well finished and comfortable to wear, setting the pace for their market segment. Black or brown straps are also an option but why would you? The bracelet is superb, doesn't cost anything extra and you can easily get a leather strap for the watch as well.
The watch is further fitted with an automatic movement, a beautiful case back (that of course features a steam engine) and the good people of Ball even engrave it with your name. Pretty sweet deal, especially since they only ask $853,- for it. Yes, that is no typo. They take pre-orders now on the Ball-website with delivery through your local Ball-dealer around march 2016, the year the brand actually celebrates its 125th anniversary.