Some watches are just cool because they look cool. They are tarnished, battered, and in this case even brandless, yet despite all of this (or perhaps because) so utterly cool! Fellows in the United Kingdom is auctioning such a watch as lot 345. A silver wrist watch from 1917, with no indication of the brand. In fact, the only thing that Fellows can tell us regarding the make of this watch is that it is stamped with silver case import hallmark of London 1917. The only thing that this tells us is that the case of the watch is not of British origin.
This watch is a bit of a mystery, and it will probably always stay that way. It does give the future owner something to look into and investigate when he feels the urge and fancies a challenge. The watch has most certainly been around, but still looks the part. It is the kind of watch you imagine Indiana Jones to have worn, and given the look of the strap that might actually be the case. The cushion shaped case has turned black, given the watch a bit of a sinister look. A decent polish will make it probably shine like nobodies business since the case is silver after all, but perhaps it is better this way.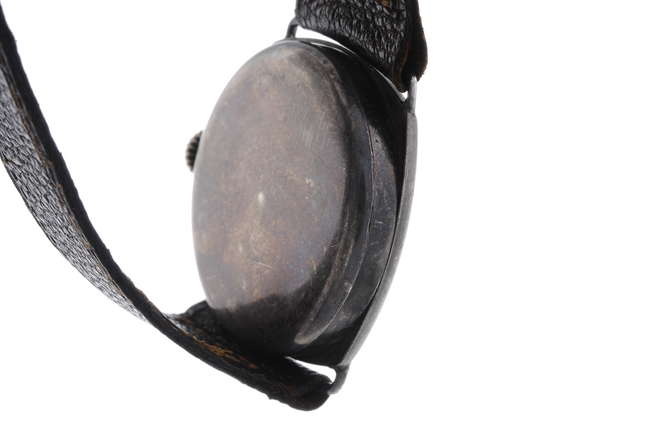 The dial on the watch looks good but is probably redone at some point in its life, given the fact that the numerals are in stark contrast with the hands. Those hands look battered, but because of it so beautiful. The cushion case has a width of 32mm, which is quite substantial and will make even today for a nice size watch. The movement is, of course, the issue. Fellows marks in the auction report that the watch is currently running, but how precise remains to be seen of course. In general, the manual wind movements in these early wristwatches were quite robust, but a century of wear and tear might have taken its toll, and spare parts are unlikely to be found. That makes this watch a bit of a gamble and one you should only take when you have a great relationship with an experienced watchmaker who likes a challenge. But of course, you can also simply bid and keep the watch as it, as a beautiful object, suspended in time. And let's be honest, with an 80 – 120 pounds Sterling estimate you will get a bargain!
More information on this lot can be found on the website of Fellows