Those recent days I was lucky enough to try the new Astbury & Kent Stellaris AK735. This new piece that you can still find on kickstarter is quite a success.
Finding a tourbillon for less than 2500$ is not usual and of course you can express some reserves about its quality.
To be honest I was quite astonished…
That's so great to see this kind of complication into affordable range without being necessarily of low quality. Indeed, that was completely unthinkable some 10 or 15 years.
Of course the movement has been produced in Far East but it's not cheap and in the contratry it's a fantatisc value for the price.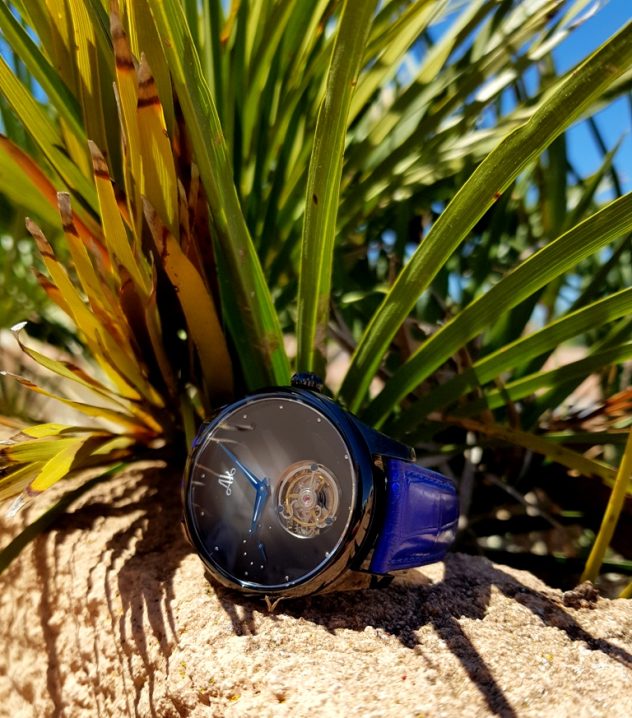 Founded by Terrence Ray Flores and Tom McCulloch, two certified watch nuts, Astbury and Kent was born of a childhood obsession with watches carried into adulthood. They are passionate about the journey of establishing a brand that delivers value for money, innovative designs and complications. Both have vast experience in the industry in all areas from design, distribution, after sales servicing and manufacturing, both in the UK and abroad. I can easily certify this as I had the chance to meet Tom some years ago in London. The two guys met by chance through their mutual love of timepieces and whilst chatting discovered they had very common interests and tastes and instantly hit on the idea of establishing a brand. Many meetings and prototypes later Astbury and Kent was born.
Terrence Ray is a well known designer who has already created some outstanding timepieces for companies and individuals. As a real watch enthusiasts he was always impressed by the beauty of a tourbillon watch and that's why he wanted to create one which will be accessible to all.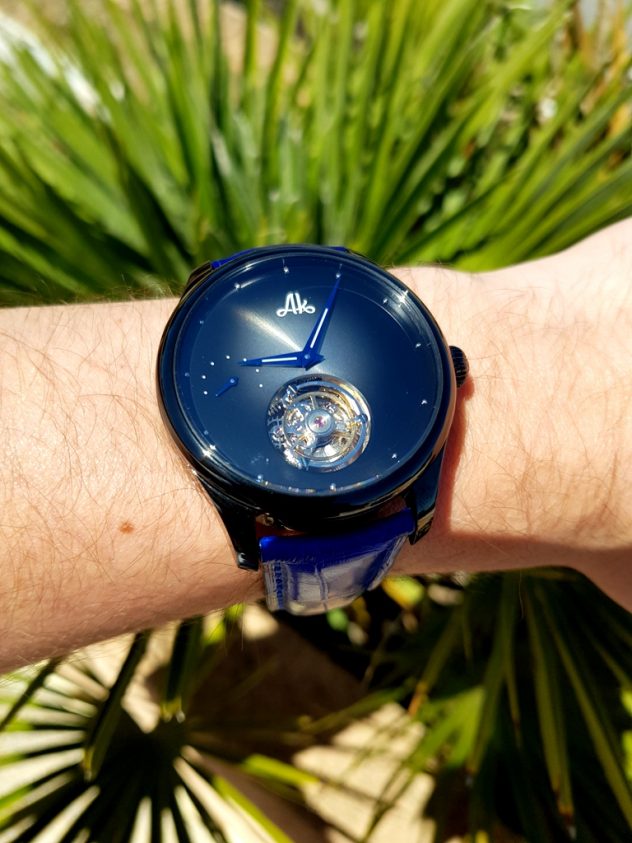 The new Astbury & Kent Stellaris is a limited edition as under 300 watches will be produced.
A tourbillon is a really entertaining complication which is both hypnotic and fascinating to watch.
The movement operates at 4Hz (28,800 bph), uses 27 jewels, is made of 197 parts, and has a 72h power reserve indicator placed at 9 o'clock. The tourbillon itself is a flying tourbillon, and it is rather large in diameter, so you'll have a nice visual experience.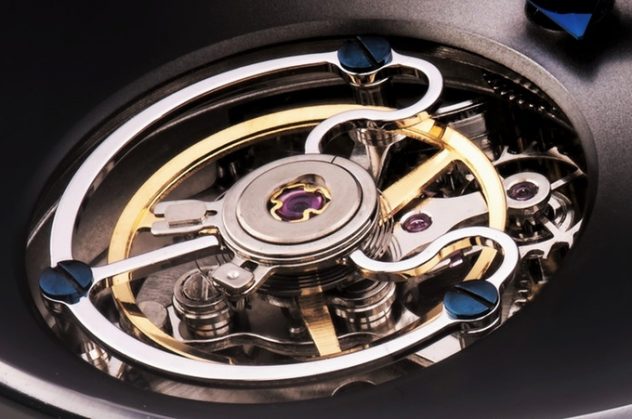 The whole look is quite simply but personnaly I like black watches and it's not that common for tourbillon watches. The stainless steel with pvd coating case as a diameter of 42.5 mm and is 12.5mm in thickness which is really comfortable on the wrist.
In addition to the tourbillon I love the whole dial. The black sun-ray colour of it is simply stunning and add a « space » effect to the whole.
To finish with a more modern look, than what we can see in general, Astbury & Kent decided to add a AA+ Blue Alligator strap with a double folding clasp. This strap as a quick release spring bar that allows you to quickly change it without any tools.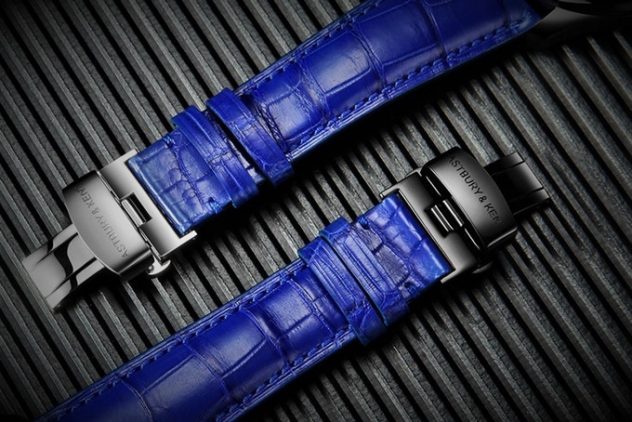 You will find a semi-precious Zircon stone on the crown and what's really cool is that the caseback is also open to have a view on the movement and its beautiful Côte de Genève that they use as decoration.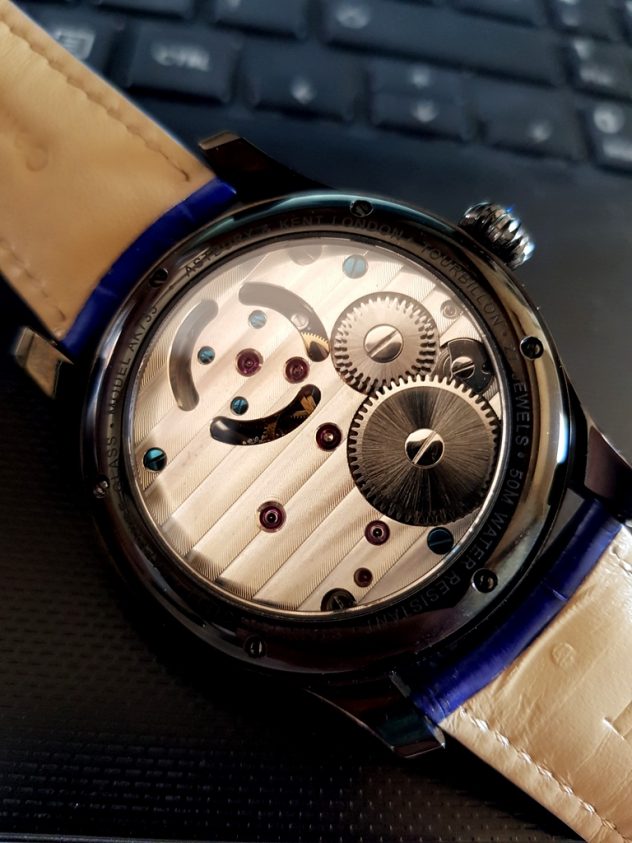 The watch also exists in stainless steel with blue dial (AK735S) ; it looks also nice but maybe a little less sporty than the black version. A last edition in black PVD with The 18ct solid gold bezel will be made too.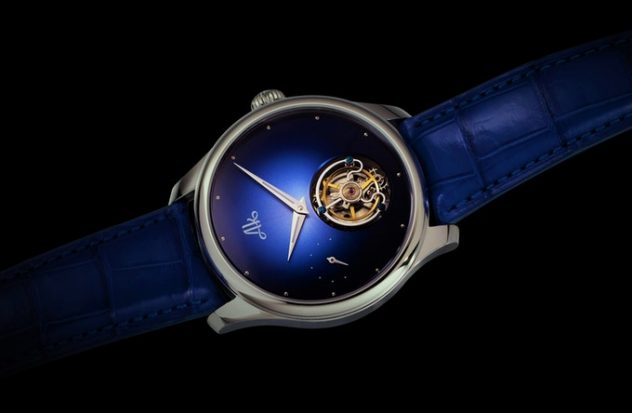 Each timepiece will have a unique serial number engraved onto the case back between 00010 and 00295.
The whole will come in a mahogany wooden watch case, and you will get a certificate of authenticity signed with the limited serial number of your watch.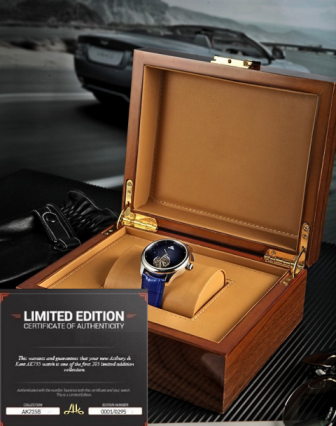 Sounds a great idea to make a tourbillon accessible to those who are not millionaire… and above all without sacrificing quality.
Well, enjoy it for what it is and, if you want, support those watch lovers to realise their dream to have their own watch brand.
Price of this piece is around 2000€ for the moment and so … If you're interested you can be the owner of one of the new limited collectors' editions of the Astbury & Kent timepiece by jumping on their kickstarter campaign.
Note that Astbury&Kent is a SOMA Horology Marketplace partner and so you'll find them on the platform quite soon. You can sign-up HERE.