No, the people at Archimede are not getting a bigger yard, but they did expand their Outdoor collection with two new watches: the Schwarzwald and the Kalahari. As their names might already indicate: they are referring to dial colors, a deep green for the Schwarzwald and a sandy beige for the Kalahari. They join the white dialed K2, red dialed Stromboli, and the classic black dial, which Archimede strangely didn't gave another name.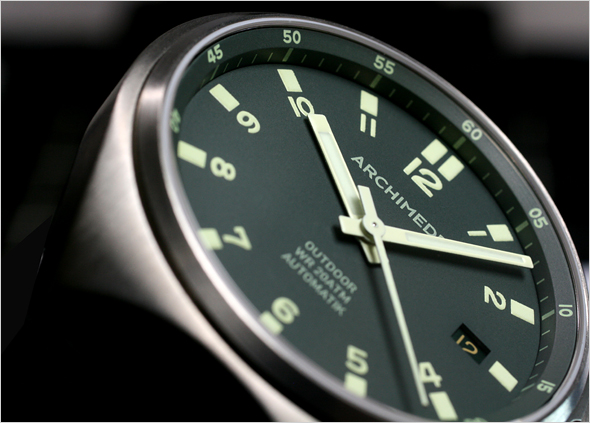 The cool thing about the Outdoor collection it that it really seems to be a watch made for the outdoors. It is really a mechanical watch that can accompany you on your hikes. The case is part 70's styled, part sports watch, which results into something unique. It is not an attention magnet, unless you go perhaps for the red dial, but it does have a style of its own.

The Outdoor is powered by Sellita's SW200-1 and crafted from 316L steel…..But, if you pay a 60 euro premium, the watch and its bracelet will undergo a special hardening treatment which results in a hardened layer of ca. 30µm, with a strength of 1200 Vickers. Given the fact that in general 316L steel doesn't get even close to 200 Vickers, this really makes the watch more durable, and more suitable for the outdoors.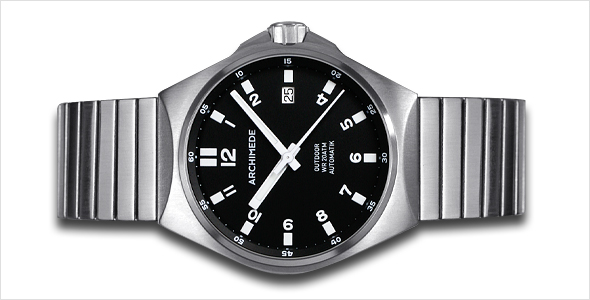 Next to the metal bracelet, does Archimede also offer the Outdoor on a leather strap, silicon strap, and the coolest of all, a Fixoflex expansion strap. That last one also happens to look the best on the watch in my opinion. Straps are not the only personalization option that Archimede offers. You can have the case back engraved, change the closed case back over for a display back and/or add a branded and blackened rotor. Of course each option will ad on to the total price for your Outdoor, but at 605,04 euro's (without tax) for the Outdoor in regular 316L steel on a leather strap, it ain't to bad. And even when you forego all options, the hardened steel is too good to pass on, and will make your Outdoor for sure, outdoor proof!
More information on the Outdoor can be found here
Save