Archimede is one of those small brands that doesn't make a lot of fuzz, but just makes some nice watches. We recently already reported on their Outdoor-collection, but now they introduced a new pilot's watch.
Next to divers watches, must pilot's watches rank very high as most desired watch model. Archimede has understood very well that you shouldn't take this concept out of its perspective, but keep it pure. The new 42mm is most certainly that. It clearly draws its inspiration from the famous Flieger-uhren from WWII and beyond in terms of styling. Yet this time not with a centrally mounted seconds hand, but a sub dial at six o'clock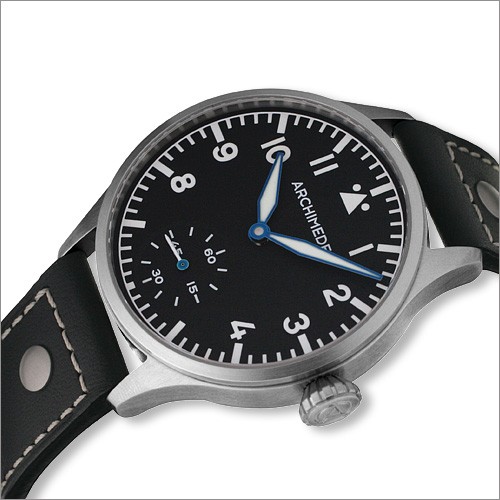 Although the dial has the classical design elements of a Flieger-uhr, Archimede gave it a few nice individual touches. Like the blued sword hands filled in with Luminova, or the sub seconds hand, where only the center is blued. Little details that do set the watch apart from other Flieger uhren.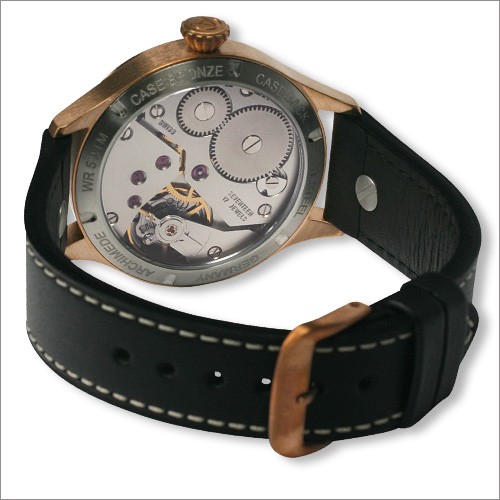 The best thing about the new Archimede Pilot is by far its case. First and foremost because it is 42mm. That means that there is just enough room to squeeze in a Unitas 6498. This movement is a classic, very reliable, good accuracy and because of its size, an almost natural choice for a watch like this. The fact that it is a manual wind movement, gives you plenty of opportunity to play with that very nice crown that Archimede fitted this pilot's watch with.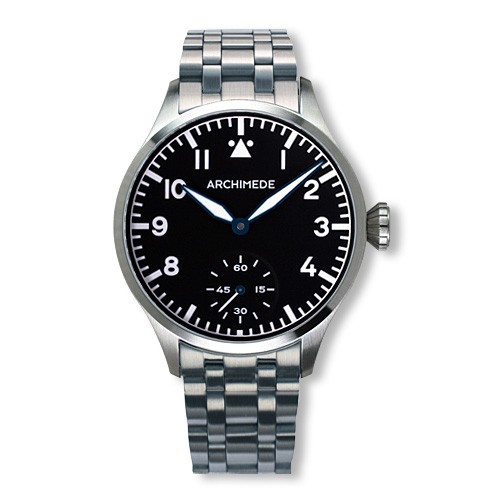 But there is more regarding the case of this watch. Normally pilot's watches only come with a steel case, but Archimede also fitted the watch with a bronze case. Traditionally only divers watches are fitted with a bronze case because this is more corrosion resistant. In a plane you obviously don't have this problem, so a bronze cased pilot's watch is in general more rare. However, the bronze case looks absolutely amazing and really takes the design of this pilot to the next level.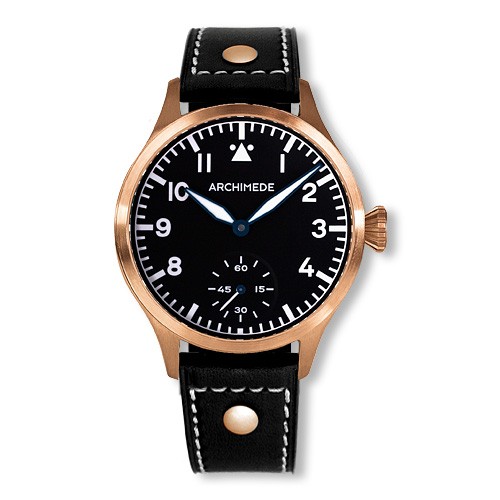 Archimede offers the steel cased Pilot 42mm for 571,43 euro's (without VAT) and the bronze one for 773,11 euro's (without VAT) both on a strap. For the steel cased Pilot Archimede also offers two bracelet options , and for both models the brand offers some customization options in terms of different casebacks and individual engravings. For all the pricing and customization please check Archimede's website. Currently Archimede is also giving away a 42mm Pilot for free, and more information on this can be found on Facebook.