Blue is the color of this summer, and I don't mind that at all! Actually, blue is one of my favorite colors when it comes to watches, especially on dials, and especially with diving watches, let alone blue dialed diving watches that come on a blue rubber strap. In that case Anonimo is already ahead of the game before we even get started with the Nautilo!
The Nautilo is actually a Watchisthis?! favorite. What I like about the Nautilo, apart from the blue, is that it is still very much an Anonimo! The case is an unapologetic 44.4mm, and being cushion-shaped, that makes it a serious watch. But as intimidating as its size sounds, the watch is actually more like a friendly giant. The case is well-rounded for wearing comfort, with short lugs contributing to this as well. Between those lugs is now a blue rubber strap, whose design we already knew from the collection, yet only in black. But blue dialed divers deserve blue rubber straps, because it brings the whole watch together in a way that no other strap can. The strap can also be bought loose for those people who already bought a blue dialed Nautilo, before the blue strap became available.
With the crown cleverly tucked away at the four o'clock position Anonimo made wearing comfort a priority for the Nautilo. The bezel is relatively flat, but generously sized and easy to operate. But quite frankly, it is just there to highlight that beautiful, deep  blue dial! It features a very fine guilloche, which is quite rare to find on divers watches, and shows an amazing play of light. The rest of the dial simply compliments this with a tremendous attention for detail. From the balanced look of the hour markers, to the unique look of the oversized hands, and from the well positioned date (with the right color date-wheel!!), to the touch of color from the counter weight of the seconds hand. They couldn't have done a better job.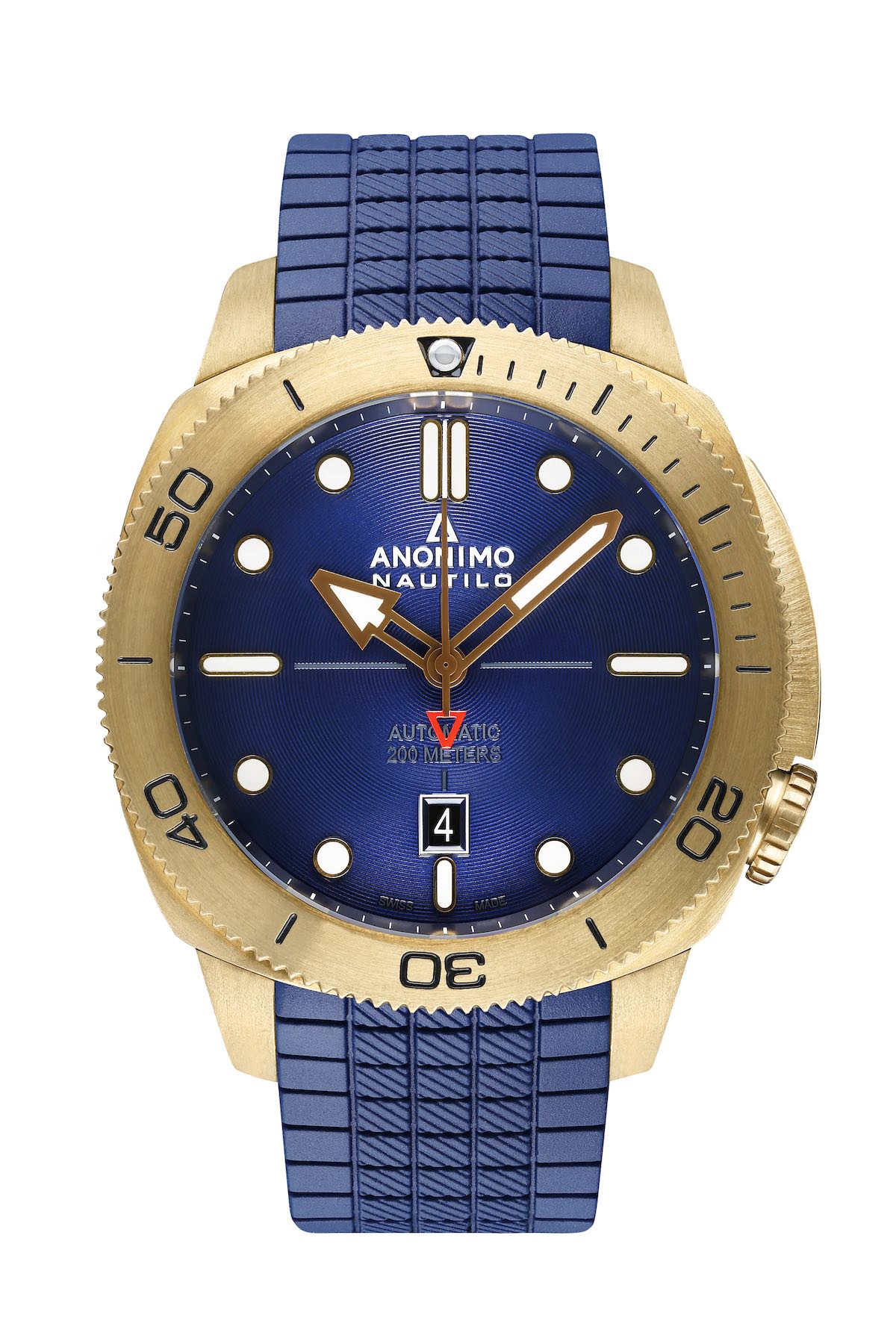 Anonimo asks 1.950,- euro's for the steel Nautilo, and with a price tag of 2.950,- euro's the bronze version actually exceeds the maximum threshold of $2.500,- that I established for Watchisthis?! Magazine. A lot of money for a Sellita based diver? Actually it is pretty much in line with what Oris asked for their Sixty-Five (which runs on the exact same movement) the Nautilo still makes a good case for itself. Proportions, details, it is all there and you get it from an established Swiss brand that is still small enough to guarantee exclusivity. And I actually predict that this watch will age beautifully, and your glad you bought one, when you get the steel version, and will age with tarnish for those who opt for the bronze one!
Click for more information about the Anonimo Nautilo here