Something special for Swatch collectors just before the holidays. Squiggly.com auctions 190 Swatch limited edition and early prototype in an online auction. The lots contain some very rare items. Based in Rotterdam, The Netherlands, Squiggly is a specialist dealer of vintage Swatch watches. They sell watches with official warranty, instructions, and original packaging.
Although Swatch is in general quite an affordable watch, you can find at this auction some pieces going for more than what you are probably used to, which is the proof that a Swatch is a collectible item.
At this auction, you can also buy some rare posters. In the 80's Swatch was extremely active to get the name of the brand known everywhere. The marketing strategies were different on every continent. Something that was completely abandoned by the company in the 90's.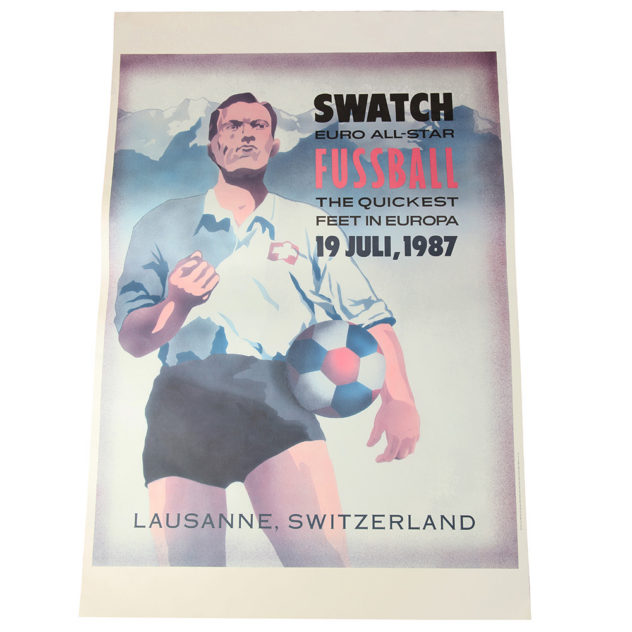 We all know the story how Swatch "saved" the Swiss watch industry in 1983 and how Mr. Nicolas Hayek built Swatch to a worldwide known brand. What very few people realize is that Swatch is the only reasonably priced brand in the world whereby each and every production model is documented and known.
Not only has the brand always kept a few of each model in the « stock du patron », but also the fact that Swatch watches were very early recognized as collectors' items thanks to their unique and quirky designs.
As early as 1989 the first collectors were trading watches with one another. American and Swiss collectors set up the first auctions at Mangisch in Zurich and prices rocketed. That was the start of the « voglia matta », the need to have a Swatch collector's item, in Switzerland, Italy and the USA.
In 2011, the very renowned auction house Phillips de Pury & Company sold the Blum-collection consisting of about 4370 Swatches of which 795 prototypes, 187 variants, and 43 hybrids on behalf of Laura Blum for USD 6'579'490. To date, this is one of the finest Swatch collections on the globe.
But what do we like about Swatch? It's contemporary and almost irresistible style, for sure! We will find in this auction all the character of the Swiss brand, with watches that emphasize the interest for art and design, but also pieces playing on the art of provocation.
Like the Zaugg prototype from 1982 which is one of the first studies to determine the final shape of the Swatch. This one is estimated between 2000 and 3000 €.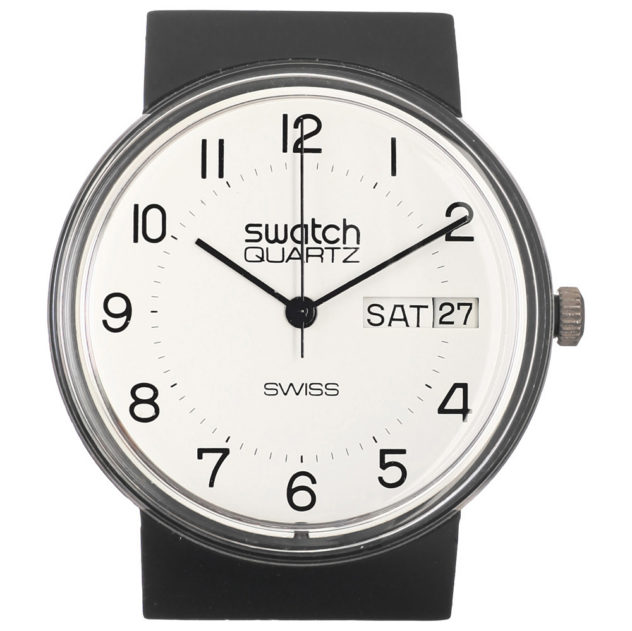 Swatch always loved to work with artists, like Keith Haring. Note that Keith made numerous prototypes before he decided which four models were to be released. This one is a prototype of the GZ104 Blanc Sur Noir, completely new and fully functional, dating from 1985.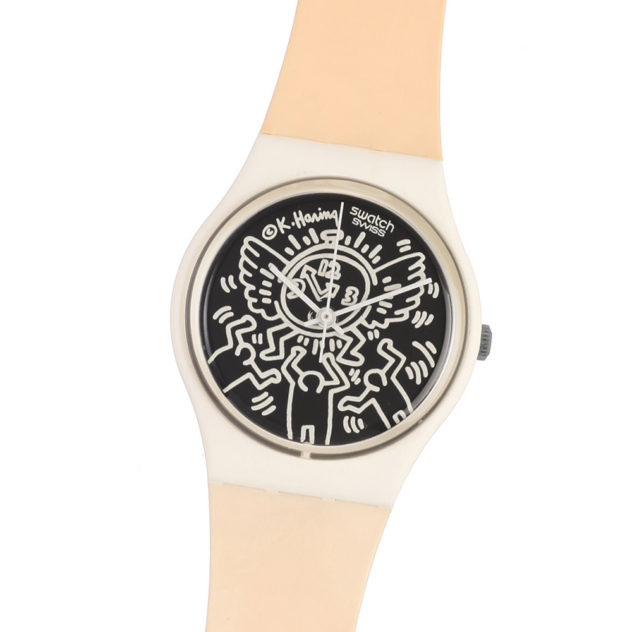 The apotheosis for every Swatch collector was designed in 1985 by the French artist Kiki Picasso alias Christian Chapiron. This version has the dial in full blue, red, yellow and a gray background. There is no production date code on the back. The case and strap have the typical green/gray translucent color that is a typical hallmark for Kiki Picasso.
This special watch is estimated between 20.000 and 25.000 €. (no typo! We told you they where collectable!)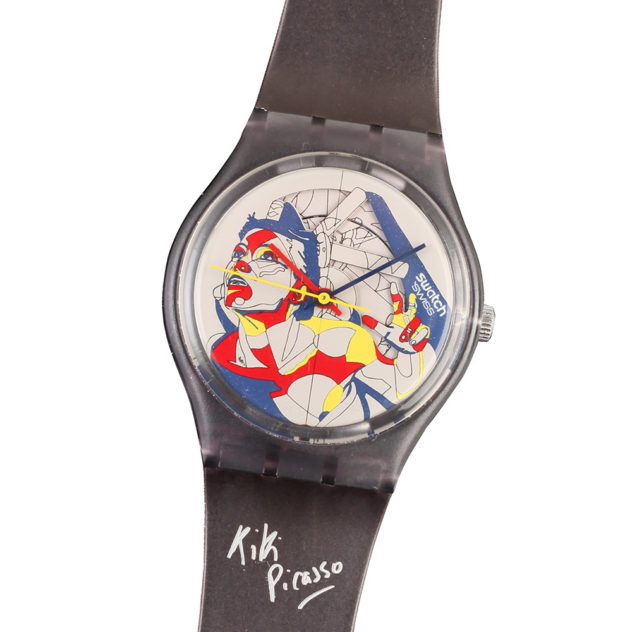 More affordable is the colorful Breakwatch watch prototype from 1985. Many people may think that the Breakdance was a design by Keith Haring, but in fact, it is not. It was a design made by Schmidt-Müller inspired by the poster Keith Haring had made for the 1985 World championship Breakdancing. This prototype has a turquoise case and thick green hands.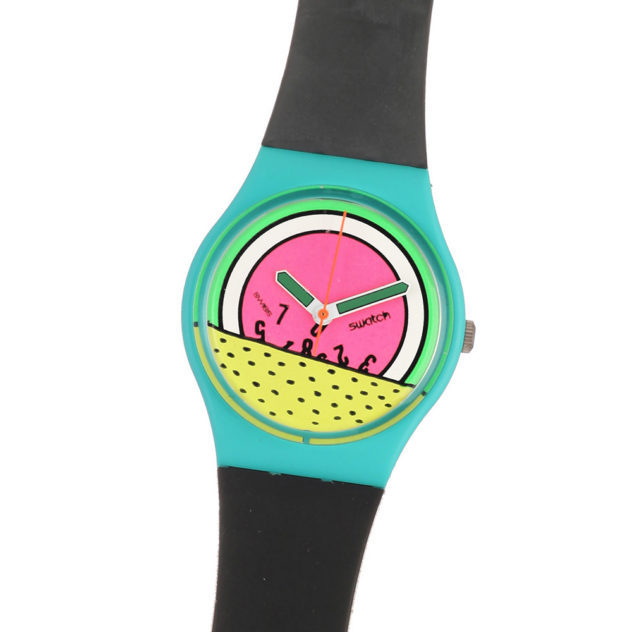 About 350 collectors have already registered or placed bids in the Squiggly Auction, which is open until Friday, December 16 and it is still open for registration until December 16th.
So if you're interested in this auction jump on Squiggly website just HERE
Save