These last days we had the chance to speak with Marie Boutteçon, creative co-founder of her eponymous brand.
In this interview, the sparkling and energetic French girl will tell us the secret behind her brand.
Hey girls, you know what? You will love it !!!
– Could you tell us a bit about you and about your story with watches?
I was born and raised in an artistic family. My father is a master of wood marquetry and is recognized globally for his precision and unique craftsmanship. He has worked for several luxury watch brands including Cartier and Jaeger Lecoultre, and exclusively for Patek Philippe recently. Through observing my father, watchmaking became a natural interest early in my childhood, as I discovered the refined creations of luxury brands, and the infinite possibilities of design.
I started my career as a stylist for some luxury brands in the fashion industry in Paris. A couple of years later, it was time to get closer to watchmaking, as my desire to design watches was immense!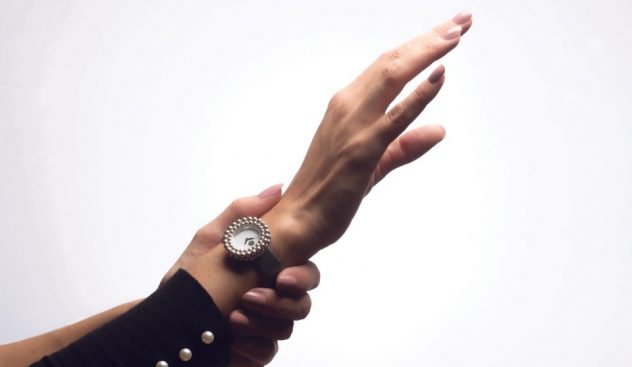 – Before starting this new adventure you were designer for several luxury brands. Could you give us some anecdotes?
I worked as an in-house designer first and then I created with my business partner Etienne Ruffieux our creative studio called « Bug Me », from where we are designing for brands and private clients. Etienne and I were introduced to each other when we were working together for Parmigiani Fleurier.
The approach is a bit different if you work exclusively for a brand for a few years compared to if you obtain mandates that you have to develop in a few months. However, the design process is the same and the passion, the requirement, the excitement is always equal. I put all my energy into creating beautiful objects.
I worked for Parmigiani FLeurier for three years and I really loved that period, as it allowed me to create very high-end timepieces. I had the chance to develop Haute Horlogerie pieces using extraordinary métiers d'art, and had the opportunity to draw unique and exclusive watches for private collectors. I developed a lot of skills in that brand. When I worked for Audemars Piguet, the process was quite different, the approach to design is very technically driven and different to other brands I worked with.
Nowadays, I collaborate with independent watchmakers through « Bug Me studio », which is very exciting and challenging. With the team, we push the boundaries of watch design and create new aesthetics and new ways to read time.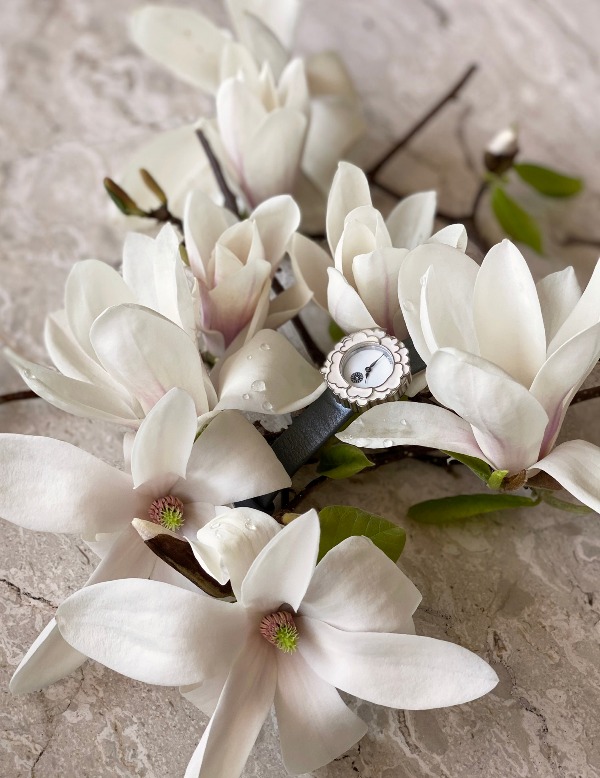 – When the idea to create a new brand came to you and when do you start working on the creation and on the launch?
I launched the brand with Etienne. A few years ago we realised that the market for feminine watches is more or less untapped, and that we could do something with a more creative approach – not the usual mother of pearl dial and precious stones. At the beginning, I wanted to create the watch of my dreams, the one I never found elsewhere.
We started the design and development of the watches two years ago. We took care of each details and developed a quality system for interchangeable bezels. We launched our brand mid-December 2019. It's a young brand and one that we hope will have a rosy future ahead!
– What made you want to enter in the already overcrowded watch market?
I agree that there are a lot of watch brands today. However, I believe there are very few brands with creative watches for ladies, which have a well executed, modern approach at the price point that we offer with Marie Bouttecon watches.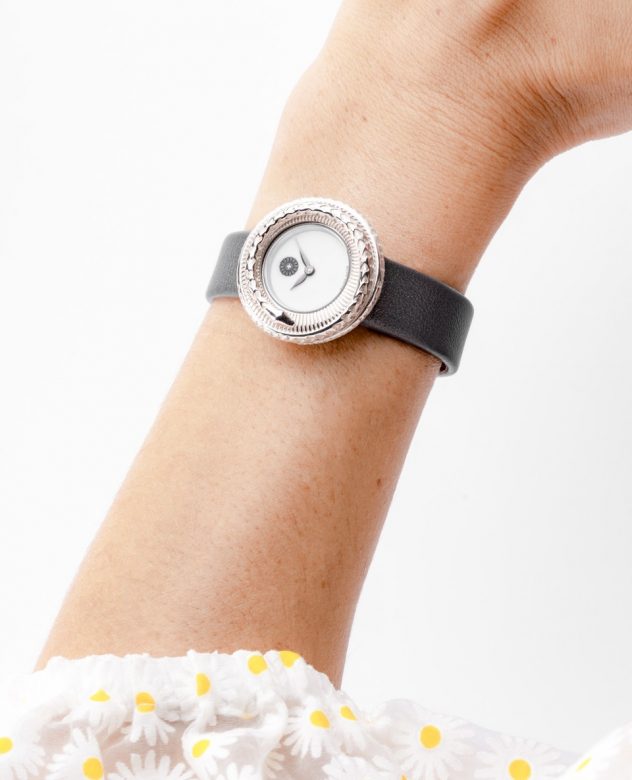 – What's the most important thing in the process of creating your timepieces?
From the initial concept to the latest aesthetic verification, our watches are produced under the rules of Swiss watchmaking traditions. This foundation of technical perfection and aesthetic is in every detail: the shape of the hands, the curve of the case, the integration of the bracelet, and the elegance of the bezels.
I put all my energy into creating designs that last. It's important for me to create beautiful perceived value through looking for the perfect shape of the case, pure lines, luxury finishing, a fine and complex texture and refined details. All of this makes a design timeless and stylish.
– What steps do you go through to develop and produce them?
Our creative team starts by sketching and making the first line drawings, then we create the volumes in 3D modeling to carve the most beautiful forms. This allows us to shape the material, find the perfect curves and hand-draw the details.
Gouache is a crucial step in the process of creation. On paper, each color represents a shade of materials, a reflection, a structure or a stone. Once validated, the 3D drawing and the gouache will be transmitted to the best craftsmen who will make the bezels.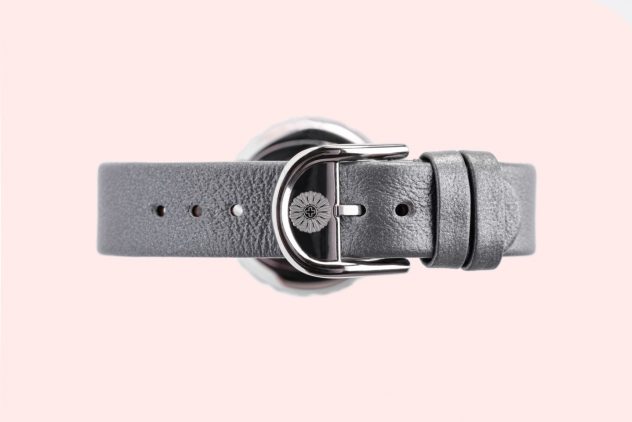 Following this, the case required precise technical development. The buckle is a unique design, made of refined sensual shapes which require beautiful polishing to enhance its curves. Each strap is made of the finest leather, our team carefully integrated the bracelet in the case with precision – which create a luxury detail.
We defined the quality criteria for our watches as Made in Switzerland and we work with the best craftsmen; experts in the art of engraving, polishing, texturing, crimping, carving and painting. They all love the pieces they are producing for us and I'm so grateful to be able to work with such talented personalities.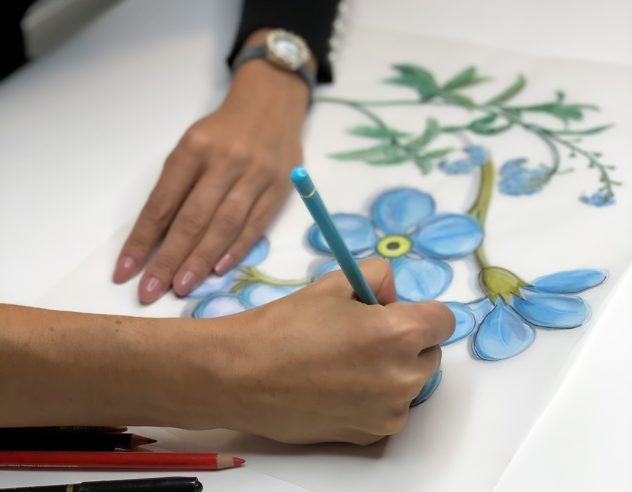 – From you perception, what makes your watches so special?
The collection was born from a beautiful blend of fine watchmaking and fine jewelry design. They perfectly combine the precision of watchmaking and the delicate art of jewelry into a premier watch design.
Our interchangeable bezels narrate your life story, while always displaying happiness, beauty and the poetry of fine jewelry and watchmaking design. I wanted Marie Boutteçon watches to be full of life and movement. I don't like it when things are static – I think watches are often clinical objects that are too rigid and too strict.
– From your own words, you said: « a watch should be versatile and unique as a woman is ». Are women around you your inspiration to create these pieces?
The modernity of ladies around me inspires me. Women who lives several lives at once influence me the most: they are working and enjoying the best things in life! They are always on the go, exploring the world, are stylish and refined, and they change their style from day to night with the same energy. And now, they can change their watch from day to night as well, to suit their feeling and style.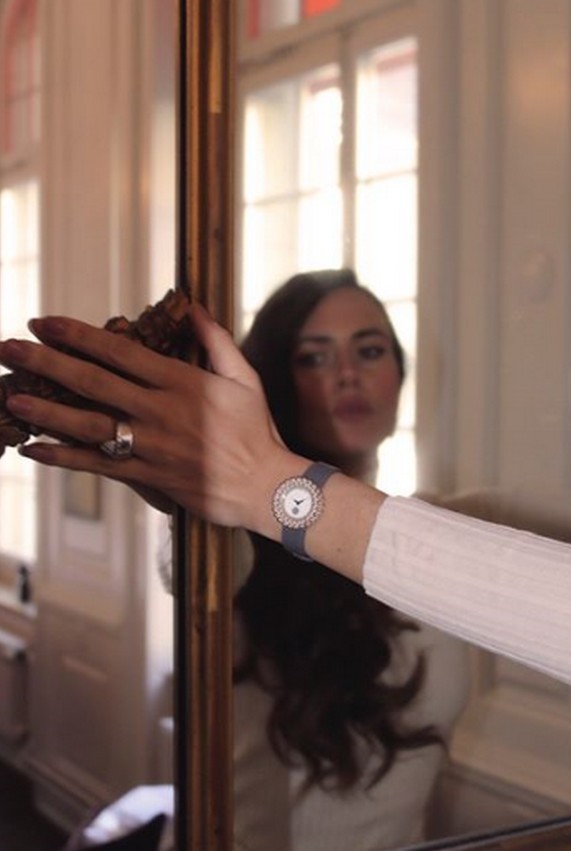 – Your first ultra-feminine collection is based on a clever system of bezels you can interchange easily, allowing the women to decorate the watch with her favorite styles and details with one click. Could you explain us how it works, and how many different bezels you have?
We imagined and created our watches to live with the women that chose them for a long time. They are beautiful and resilient and can be serviced easily in the future. We have abroad expertise in Swiss Haute Horlogerie and this guided the way we created our watch – with no compromise. We wanted to be sure of the quality of the interchangeable system and chose a robust, yet elegant solution. In one click, the bezel is settled on the watch base, while small springs strongly keep the bezel and the case together.
The Spring Summer 2020 collection consists of five different bezels. Each one is made of sterling silver and designed with the best of fine jewelry techniques. The variety of bezels we offer showcase the versatility and uniqueness of its wearer because we believe a woman's style, state of mind, emotions and her lifestyle cannot be expressed with a single design.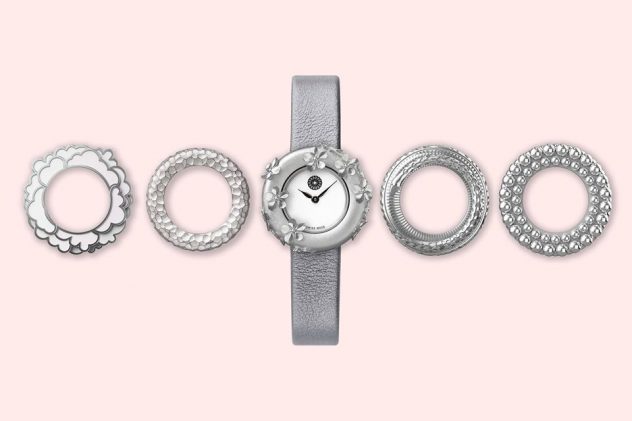 – Do you have one favorite in this collection?
I do! The Myosotis Crush is my favorite because I'm a flower bandit :). The bezel is handmade and the details are splendid. If you observe with attention the forget-me-not blooms, you'll notice the complexity of the colors and the sophistication of the corellas. We tried to precisely design these flowers in the most organic way possible.
They are pretty, airy, have microscopic details and are absolutely poetic. It's like owning eternal springtime on your wrist. The polished open flower petals display intensive and masterful design, yet surround the bezel with lightness. Plus,it's the first time you see a watch with 3D flowers on its case.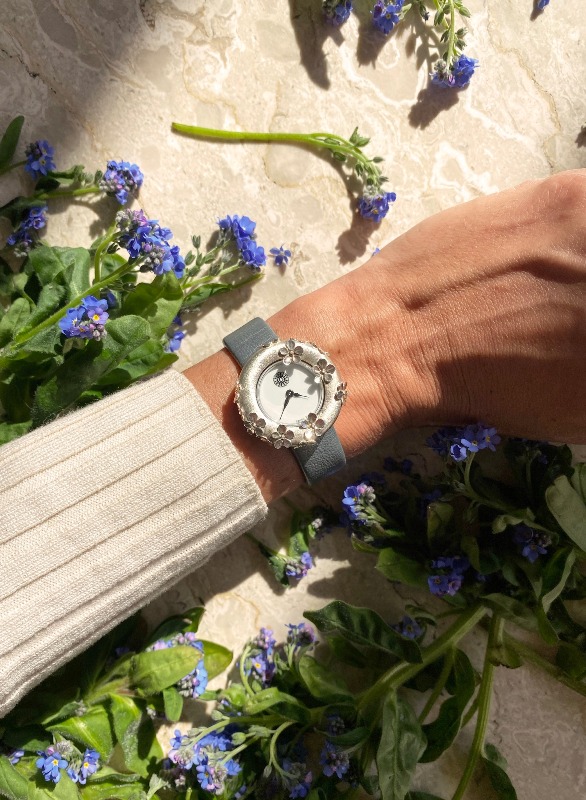 – Let's talk about distribution. Obviously, at the moment you work with the e-commerce and it's probably the best thing to do for a young brand like yours. In the future you want to try another kind of distribution or what's your strategy?
I didn't expect 2020 would start this way; it has delayed what I wanted to do. I want people to be able to touch, wear and try the different bezels. I'd like people to discover the preciousness of each piece and discover the details by themselves. To do this, I was looking for specific boutiques, more like concept stores to display the collection worldwide. I was also planning road shows and dinners, and looking forward to setting up exclusive events with women.
– Now and more generally, what are your plans for the future?
I think the most important thing to remember is that our brand is a space for creativity, where we can create over and over. No limits, absolute freedom, zero frustration! The concept of our watch allows us to create fantastic pieces using beautiful jewelry craftsmanship. It's also an opportunity to collaborate with talented artisans worldwide and other brands in the lifestyle, fashion and jewelry fields. We have enough imagination to design to eternity.
– What aspects of your brand you think people should know more about?
I would like women to feel the magic, poetry and passion involved in creating this beautiful piece. It's modern and playful because women can customize the watches to their taste at the time.
Not only are the designs beautiful but they also have a tangible tactile magic that you can touch and wear. There's a little surprise and delight and the watch is suited for both right-handed & left-handed women, just like a stylish bracelet.

– OK, now something more personal. For you, what's the most important thing to find in a watch?
Every detail is important in my opinion. From the shape to the finishes, combining attention to detail with style is very important to me. I believe in the pursuit of aesthetic perfection: creativity is essential (today more than ever!) and the presence of art is fundamental in order to create iconic pieces.
I believe the role of art is crucial in the world of watchmaking, both with movement/complications and in the pure aesthetic of each piece. I preach for a strong design which speaks for itself, without tones of marketing required to 'support' the product.
– To finish, are you also a watch collector and if yes, what kind of watches do you collect?
I mostly collect vintage watches. Some have no market value but they are very special to me because of their beauty, amazing details and obvious creativity.
You can follow Marie Bouttecon Watches on their social media channels :
YouTube, Instagram, Facebook 😉
Jonathan Kopp