When it comes to smart watches, your decision is limited by the phone you have. An Apple Watch is of little use without an iPhone, and the same goes for any Android-powered smart watch. Exe Watch is going to fix this with the very first smart watch that can handle both.
The Exe Watch comes in two different versions, the C2, and the more advanced C7. The C7 is US$20,- more expensive as the C2 but in return, you get 400 x 400 pixels instead of 240 x 240 pixels, 256MB RAM instead of 128MB and more sensors. Heart rate, Barometer, and temperature are added onto the G-sensor that the C2 also has. Unique is that the C7 is also fitted with a UV-sensor, which can warn you how powerful the rays are and if you should apply protection. Nifty features.
Another cool feature is that the watch supports gesture control and allows you to for example pick up a phone call with a mere twist of the wrist. All these features are wrapped in a 42mm round case, aluminium-magnesium for the C2 and stainless steel for the C7. A rose gold plating is optional for the C7, and the watches are offered with a Milanese bracelet, leather strap or NATO strap.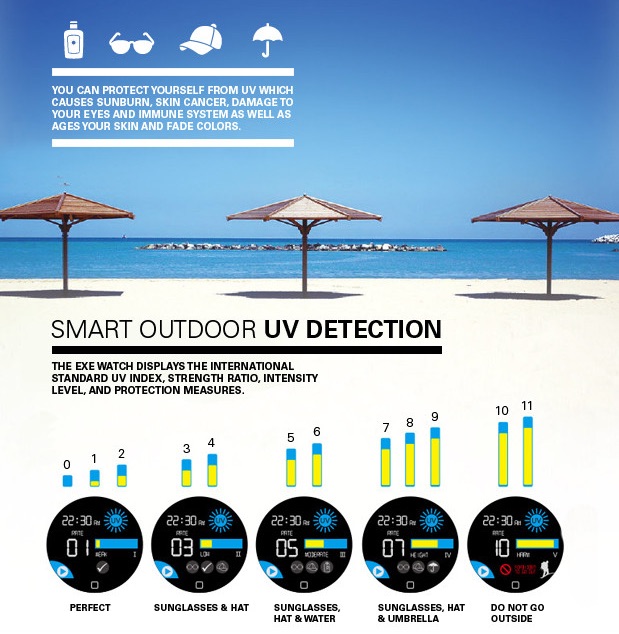 The scariest part of the Exe Watch is perhaps its price. At the time of writing, you can still get early birds for US$50,-, US$70,- depending if you go for the C2 or C7. Even the unlimited offering for the C7 is only US$110,-. These prices make you wonder if they can actually deliver, but if they can, the faith of the regular quartz watch will be sealed sooner than later. We knew that this time would come, but this fast…
You can find more information on Exe Watch at Indiegogo