A helicopter flies over the Swiss alps, landing just long enough to deploy a team of the Swiss army mountain infantry, who take immediately defensive positions. In a scenario like this, it is not difficult to imagine these soldiers would be wearing a Swiss Mountain Trooper made by 1291.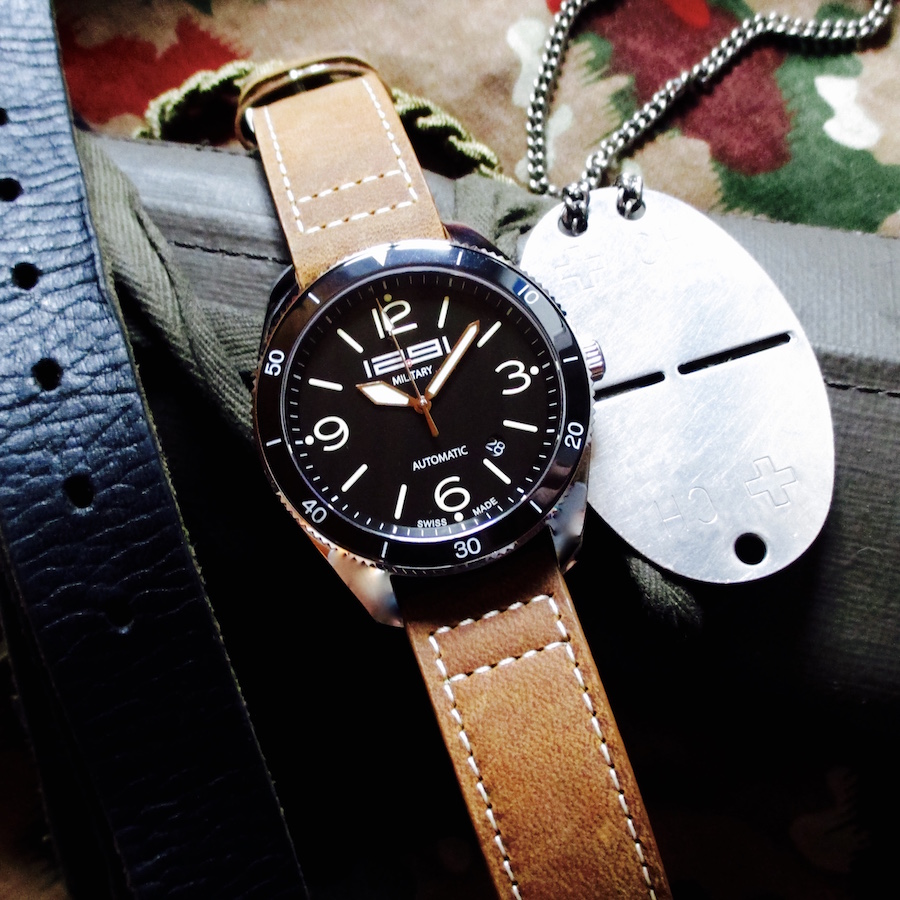 Although 1291 is not the official supplier of watches to the Swiss Army, a soldier or officer might opt to one as their personal watch. Considered a micro-brand, 1291 is as Swiss as any of the big name brands. It prides itself on being designed, manufactured and assembled in Switzerland, and its name is a direct reference to the year Switzerland was founded as a country.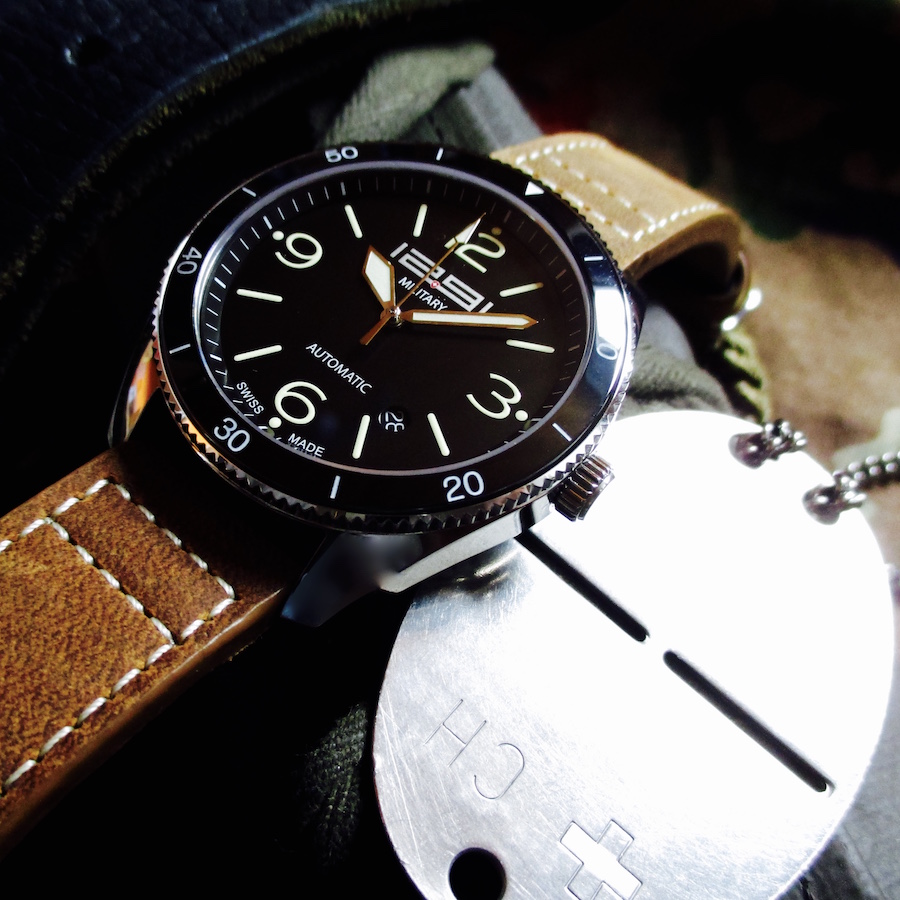 Technically we would consider the Swiss Mountain Trooper a military watch, but its characteristics make it more a let's do everything watch. It is highly legible, with its bold numerals and large sword hands, but with a diameter of 42 mm it is not exceptionally large. Kept relatively slim, it wouldn't be too difficult to fit this watch under a shirt sleeve. By giving the date wheel a black background, and giving it a round window on the dial tucked away between four and five o'clock, the watch maintains its balanced look, while still offering this practical complication.
That being said, it still is a tough watch. It is fitted with Sellita SW200, a Swiss automatic workhorse movement that for sure will get the job done. It has been an alternative of ETA's 2824, since the Swatch group limited the supply of this movement to brands outside the group itself. Of course, the Swiss Mountain Trooper is fitted with a sapphire crystal front and back so the movement can be admired as well.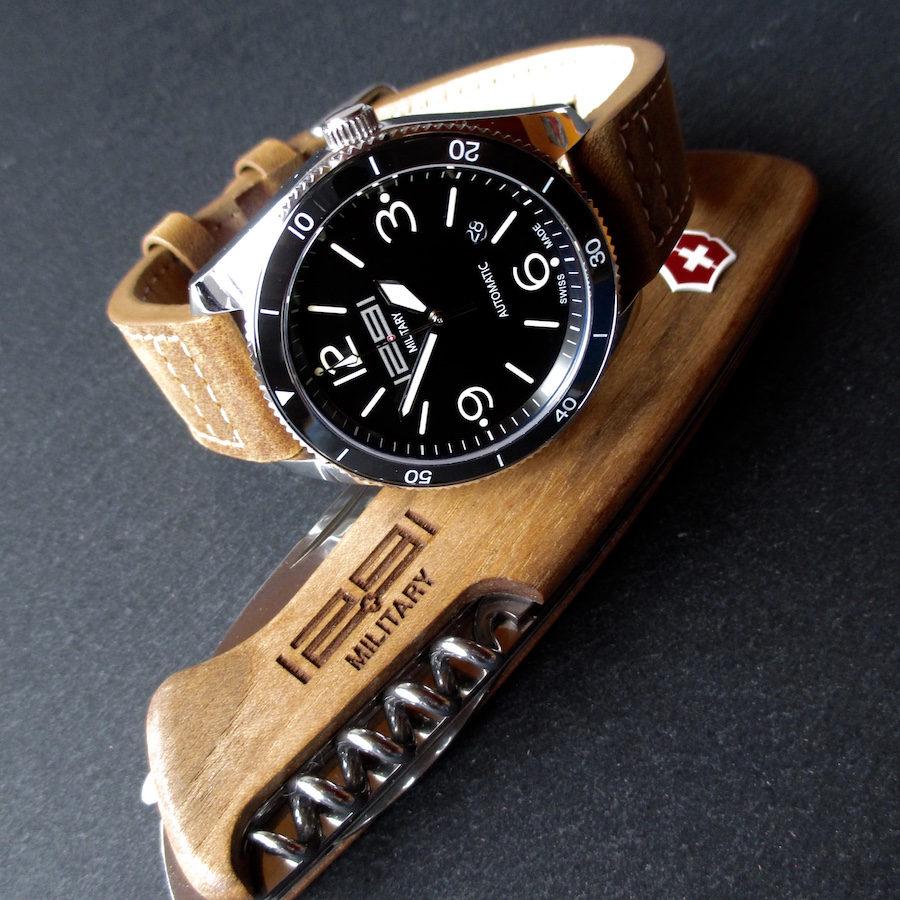 The case has a straightforward elegance to it, that suits a military inspired watch. It also makes the watch timeless in terms of design, and I expect it to age quite nicely. Especially when also the leather strap is showing some wear, the piece might look even better than it already does. 1291 fortunately withstood the temptation of fitting the Swiss Mountain Trooper with a large crown. As cool as this might have looked, it would have greatly impacted the wearing comfort of the watch in a negative way.
The price of the Swiss Mountain Trooper is CHF 895,-. Being used to Kickstarter prices, some people might find this a lot of money. Given the build quality and the Swiss pedigree, on top of the fact that this watch is being made in limited quantities, it seems like a fair price for a very versatile watch.
More information on the 1291 Swiss Mountain Trooper can be found here